Apple recently launched one of the long-awaited features called Universal Control. Apple Universal control is a feature that allows you to use a keyboard and mouse on multiple Apple Devices. However, there are limitations on which devices can take advantage of this feature.
What do I need to use universal control?
First thing is, of course, you need to have a compatible iPad or Mac device. You also need to be logged in to the same Apple ID or Apple account on all of the devices that you're going to use. And for this demonstration, I'm using iPad Air 4 with iPad OS version 15.4. I also have an iMac with Mac OS, Monterrey version 12.3.
Second is of course you need to be connected to a common network.
Finally, you need to have your keyboard and mouse.
If you're wondering if this will work even if you're using a third-party keyboard or mouse like Logitech, you don't have to worry because it will still work, at least in my experience.
I'm using Logitech MX keys standard version. And for my mouse, I have the MX Master 3.
Supported Mac & iPad Devices
As of this writing, Apple list the following supported Macs:
MacBook introduced in 2016 or later
MacBook Pro introduced in 2016 or later
MacBook Air introduced in 2018 or later
Mac mini introduced in 2018 or later
iMac introduced in 2017 or later, plus iMac (Retina 5K, 27-inch, Late 2015)
iMac Pro
Mac Pro introduced in 2019 or later
Mac Studio
For iPads:
iPad Pro (all models)
iPad (6th generation) or later
iPad Air (3rd generation) or later
iPad mini (5th generation) or later
You can also watch the video here:
How to Setup Apple Universal Control on iPad
To setup Universal control on your iPad, go to Settings by clicking on the Settings icon.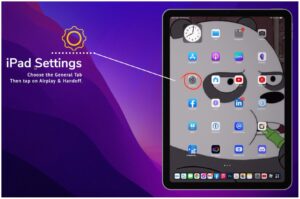 On the left sidebar, choose General then under General tap, airplay, and handoff.
Be sure to toggle handoff, cursor and keyboard.
Once you have completed the setup on your iPad, go to your Mac Laptop or Desktop. Open the preferences window.
Once you are in the System Preferences window, click on Displays.
Click on universal control found at the bottom of the screen. Now there are three checkboxes, and you'll just have to make sure you take all three, then click done.